Your party itinerary in Greensboro
Whether you've lived in the Greensboro area your whole life, or you're just in town for your pre-wedding celebration, having your bachelor party in the downtown area is a sure bet for a great time.
Greensboro is North Carolina's 3rd largest city and is centrally located between the mountains and the coast, but you don't have to leave town to have a good time. There are many exciting attractions both new and old that your group can check out on the day of the party.
Are you just beginning your party or starting the day after a night of clubbing? Either way a great breakfast is needed.
Smith Street Diner
is renown for it's fresh biscuits filled with everything from pork tenderloin to fried chicken.
Scrambled Southern Diner
bills itself as an eclectic gem with a menu that features local farmers and is famous for it's house maid corned beef hash.
If nothing will do than chicken and waffles you will find an amazing selection at
Dames Chicken and Waffles
. They may be almost world famous, but there shmears will make palette sing.
Sure you can try Uber or cram everyone into a cab, but if you have a group of 10 guys or larger then consider a party bus to trek around town. These are not the same buses you see around Greensboro, but specially outfitted party platforms with amenities galore. Options are many;
Pat's Party Bus
promises to get you around town in style. If you have big group the genuine British Double Decker party bus from
Royal Limousine
holds up to 72 party goers. Ruffhouse Partybus will give you a jamming sound system and a pole which will be important if you plan on having any girls aboard!
Getting tickets to a sporting event is a time honored way to celebrate with the guys.
Greensboro Coliseum
hosts college basketball games and has a professional basketball team called the
Greensboro Swarm
. If there are no games the weekend you have planned the bachelor party, then gather the group and take them to
Breakout Games
. There are many different escape room games that the whole party can get together and break out from. You don't have to break the bank in Greensboro to have a good time; here are
some free ideas
.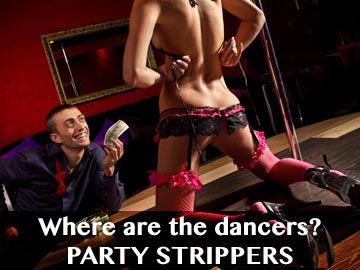 Going to the strip club is fun, but having the strippers come to you is way crazier and totally wild. There are many shady companies in this business promoting strippers but instead of the hot girls they show on their sites send out fat girls. It's a total scam and ruins your event. That's why it's vitally important to make sure you rent your dancers from a legit company if you want to see bone fide hotties. We recommend
North Carolina Stripper
. Superior and honest service plus you will be able to choose from real photos of the exotic dancers available.
Now that you have transportation it's time to take the party on the road. What better way to enjoy the night than to discover the colorful nightlife Greensboro has to offer. The
Limelight
is known for it's rooftop lounge; you can also rent out the whole space to keep your party exclusive. Do you want to watch a concert? Take a look at
The Blind Tiger
and see who they have playing in their venue. Looking for an authentic slice of Americana? Your party will enjoy the dive bar experience at
Westerwood Tavern
.